We've registered with easyfundraising, it's a great site where you can help Hertford Swimming Club raise funds simply by doing your everyday online shopping! 
Over 4,000 big name retailers are included, such as Amazon, Argos, John Lewis, ASOS, eBay, Boden and M&S.
Every time you shop, we receive a small donation to say 'thank you!' It's completely free and over £27M has been raised for causes just like us so far. 
We want to raise as much as possible so please sign up and help us at https://www.easyfundraising.org.uk/causes/hertfordsc/?utm_campaign=raise-more
---
---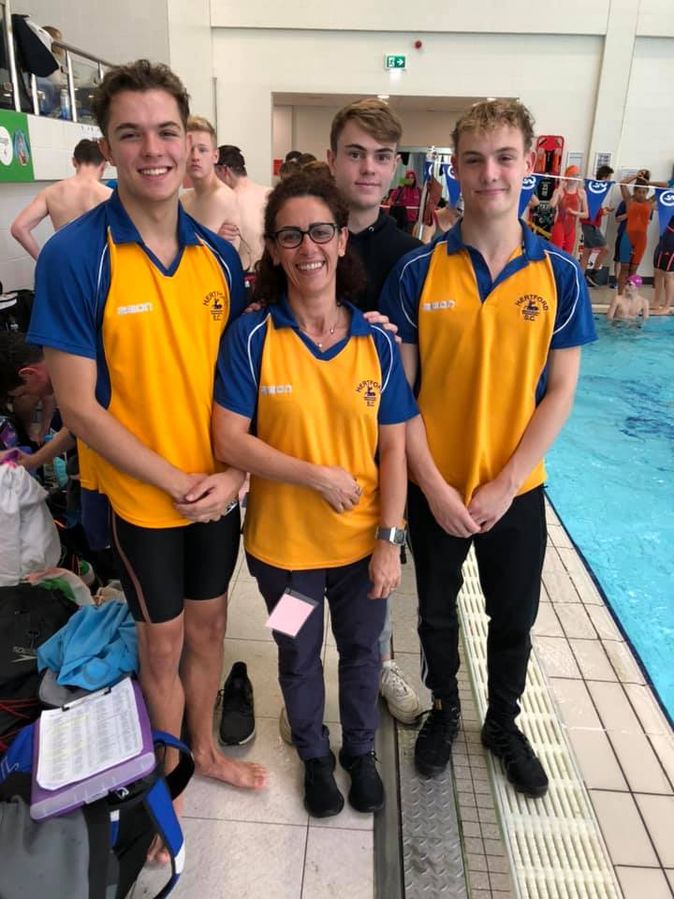 ---
On the weekend of 1st-3rd November 2019, the SEER Short Course Championships 2019 took place at Basildon Sporting Village.
SC Regionals, also known as Winter Regionals, differ from the Long Course Championships as they run with an Open Age format: this means that athletes of all ages fall in the same category. Qualifying times for these champs are consequently very fast and hard to achieve.
Three Hertford SC swimmers qualified for this year's regional competition: Joshua Holland (16), Joshua Trapp (18) and Neo Metz (19).
Joshua Holland started the championships competing in the 50 Free, which he swam in 25.26 which is a County Qualifying Time (CQT) and Summer Regional Qualifying time (RQT) (56th place). He then performed a personal best time (PB) in the 50 Fly (32th) in 26.77 (CQT, RQT), only 0.07 secs outside the Winter Nationals qualification time of 26.70! On the Sunday, Joshua swam the 100 Fly in 1.00.75 (42th, CQT, RQT) and finished his championships on a high with a fantastic PB in the 50 Breast, where he broke the 32 secs barrier, swimming in 31.65 (34th, CQT). 
Joshua Trapp's first race also was the 50 Free, which he completed in 24.84 (33rd, CQT, RQT). Joshua touched wall in the 50 Fly in 26.66 coming 28th (CQT, RQT). The highlight for Joshua was the 50 back which he swam in 28.78 (43rd, PB, CQT) going for the first time ever under 29 secs. Joshua also swam a very good 100 Fly in 1.00.55 (PB, CQT, RQT, 37th) and 100 Free (55.76, County Consideration Time – CCT).
Neo Metz joined his two teammates on Sunday to perform in the 50 Breast: he touched wall in 32.61 (59th) which gives him a CQT. Neo impressed with a much improved stroke efficiency.
I am very proud of our swimmers' achievements: their work is translating in better performances which, considering that we are at the very start of the swimming season, is very promising.
Keep up the good work!
#weareoneteam
Best wishes
Manuela
---
25th-27th May 2019, Norwich
---
---
Congratulations to Joe on his achievement at the Regionals!
---
The second weekend of SE East Region Summer Long Course Championships was held on Sat 25th to Mon 27th May 2019 in Norwich. The competition is reserved to Age Group Swimmers (ages: 11/12, 13, 14 yrs).
Joe Reynolds (14) qualified for two events. He started his experience at the Champs on the Sunday with the 100 breast, which he swam brilliantly to touch pad in 1.22.21, improving his time by 2 seconds in just two months. The powerful race allowed Joe to move up the rankings by an astonishing 13 places and claim a well deserved 23rd place.
On the Monday, Joe repeated his feat by swimming the 50 breast for the first time ever under 36 seconds: completing the race in 35.92 (19th), Joe not only achieved a LC PB, but beat his SC PB by nearly half a second.  
Over the past few months Joe has massively improved on the quality of his training, with high levels of engagement and will to push himself beyond his limits, and his accomplishments are the natural consequence of the smart and determined daily work that Joe commits to. Well done Joe!
Also well done to Joe's biggest fan, George, whose support has been fantastic and delightful to watch!
Best wishes
Manuela
---
Congratulations to Joshua Trapp, Joshua Holland and Neo Metz on their achievement at the Regionals!
---
Swim England East Region (SEER) Long Course Championships are run yearly over two May long weekends: the first (Youth - for 15 &Over) and the second (Age Group -  for 14 & Under) sets of competitions gather swimmers from Bedfordshire, Cambridgeshire, Essex, Hertfordshire, Norfolk and Suffolk. The first weekend took place over the Early May Bank Holiday Weekend (4th to 6th May 2019) at Inspire Luton. 
Hertford Swimming Club fielded three Senior swimmers: Joshua Holland (16), Joshua Trapp (17&Over) and Neo Metz (17&Over).
Joshua Holland, warmed up for the Championships swimming the 100 fly in 1.01.13 (a 2-second improvement from just last month) to secure a place in the final, where he came 7th improving his morning time and touching the wall in 1.01.02. The following day Joshua swam brilliantly in the 50 free (26.02, PB) and 50 breast (32.98, PB and first time under 33 seconds): these two feats saw him finish 9th and first reserve in the final for both races. Joshua however was saving the best performances for the last day, which saw him race in the 50 fly. A convincing heat gained him 4th (27.32) to guarantee him a place in the final, which Joshua swam amazingly, fighting to the very last stroke: he confirmed his 4th place by swimming for the first time ever in under 27 seconds (26.92) and only 0.01 secs off the podium! Joshua, who is preparing for GCSEs, has been working consistently over the past few months, and his accomplishments show that passion, dedication and hard work are crucial drivers to improvement.
Joshua Trapp (17&Over) swam in the 50 free on Sunday 5th May to clock a personal best (PB) of 25.97 (42th): his dive and powerful underwater secured him a fast start to the race, advantage that he managed to maintain for the whole distance. The fine tuning of Joshua's technical skills served him well in his second race, the 50 fly, which he swam in 27.34 (PB, 35th), 1 second faster than the time swum just one month ago, a massive improvement.
Neo Metz (17&Over), who was in the middle of his A-Level art exam, joined the team for the 50 breast: he swam a very smooth race, showing further improvements on his swimming efficiency, to finish in 34.15 (60th). Well done Neo!
Hertford SC Head Coach Manuela Teti said: "It has been an honour to spend three days of racing with the Senior Regional Qualifiers: these swimmers and all their teammates in the club have totally embraced the new training, taken on board difficult challenges, and put in a lot of hard work. I am so proud of them, of their will to improve and make themselves proud and am very much looking forward to the second weekend of Regionals (14&Under), which will take place at the end of May in Norwich".
#weareoneteam